Review Guide to SkinWallet
SkinWallet is a trusted, advanced and modern gaming skins trading platform that influences the gaming industry nowadays. It allows you to sell and purchase gaming skins from popular Steam games CS: GO, to be specific. Skins can be reliable and fantastic investments in the gaming business in today's era. Skinwallet gives you an excellent deal for your skin and lets you transfer funds to your PayPal account.
SkinWallet : Awesome Features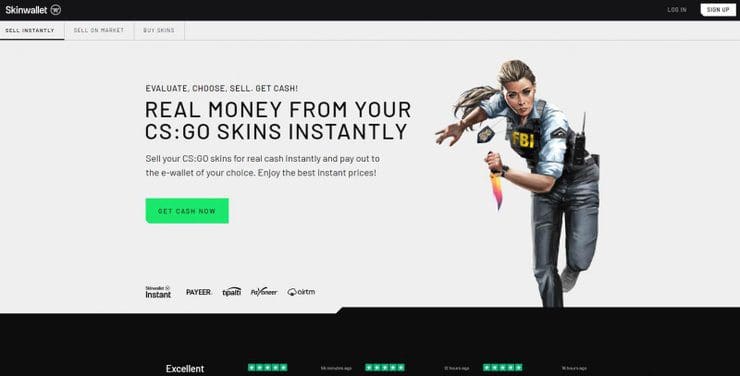 Some of the awesome features for the SkinWallet for the awesome #gamers are as follows.
1. Instant Payment Options
When you decide to commercialize your skins in the SkinWallet Market, SkinWallet also provides you a quick payout solution. It is a suitable payment platform with great payment options such as Skrill, PayPal, bitcoin, and bank transfer, among others.
2. Security & Privacy
Your payment records are always secure and private with SkinWallet as their website operates over HTTPS. They have strictly based policy on user's privacy and crucial data security. The site does not need any personal information from its visitors. All you need is a gaming alias.
3. Trust & Surety
Skinwallet ensures that your payments will be completely secured. You will never have to be concerned about losing your money. If they receive more money from you than the skin's price then the extra money is simply credited to your account for the future purchase, therefore there is no hindrance of losing the money.
SkinWallet: Walkthrough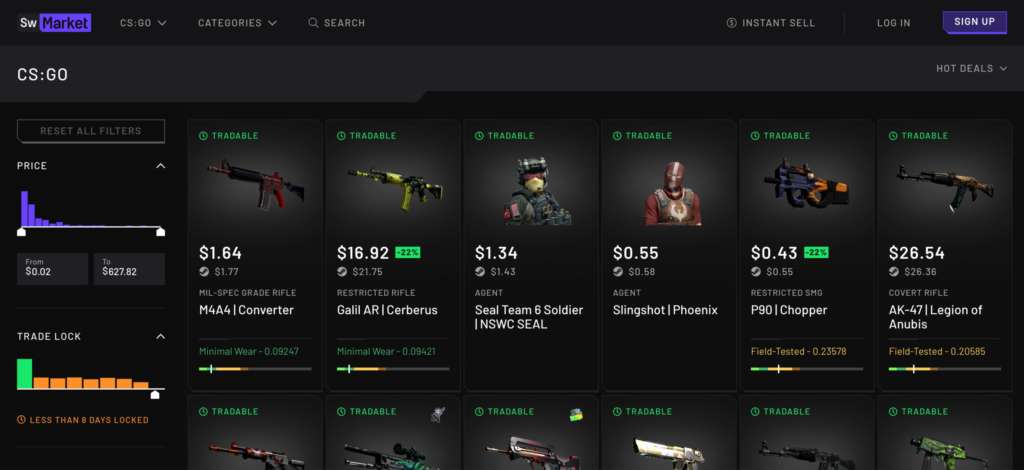 Skinwallet is the most incredible place to exchange your skins for money and especially if you want to sell a big chunk of your skin bundles at once. They have a user-friendly platform with strong security to secure your information.
The payout process is speedy, and it only takes three easy steps:
1. Log into Skinwallet
Simply into Skinwallet by providing your steam account information and proceed to your Skinwallet account to confirm your sale of skins from your steam account.
Skinwallet provides a solid security architecture. With any method you select on their platform, SkinWallet will protect your personal information.
2. Sell your skins to SkinWallet
You may then check the pricing for skins in the inventory you will get from your Skinwallet account. You can filter your skin by the level of quality and wear and also weapon kind.
Choose the skins you'd like to sell by simply clicking on them, and skins will be marked with a green check sign. Ensure that you need to add a legitimate stream trade URL to your account and set your inventory to public display.
3. Accept the trading offer
After choosing all the skins, you wish to monetize, approve the deposit transaction by clicking on the green button at the far lower right corner of your screen. A pop-up window will appear with the unique characteristics of each skin wallet bot.
Click on the "Proceed To Offer" button to launch a new window containing the transaction of each bot. Your account gets updated in no time after you finish the transactions. You also have the choice to payout your cash to your PayPal account.
SkinWallet : Ease of Usability
When you visit the site for the first time, it's evident on the home page that this is a skin trading platform. They have a distinct goal that is easy to grasp.
Skinwallet features a user-friendly design that is attractive to the average individual without any prior knowledge. The layout is simple and funky, which helps you to feel comfortable with the site.
The titles, links, texts are elementary to discover. Even the smallest visuals provide fast loading times; the primary menu on the left-hand side is also straightforward to explore. Colors are also beautiful, with white readable graphics on a black backdrop bright green buttons. Therefore to sum it up, the UI, design, and UX are excellent, making it an impressive User Experience.
NO ADS!, Yes you've heard it right, No irritating ads on the whole website, only beautiful website with features. It's a sleek and smooth site with no annoying advertisements or pop-ups, making it a very remarkable engagement of users without getting interrupted and making the experience far better.
And it's simple, too; all you need is your steam account and email address to sign up for Skinwallet. Their search feature is straightforward to use and provides you with fast, relevant results depending on your query.
And if you are a newbie, they have still got you covered with their extensive range of blogs and FAQs to get you up to speed and set your mind at ease. You can even share their links and follow them on social media through sites such as Facebook, Twitter, and their official steam community of expert viewpoints.
How Safe is Skinwallet ?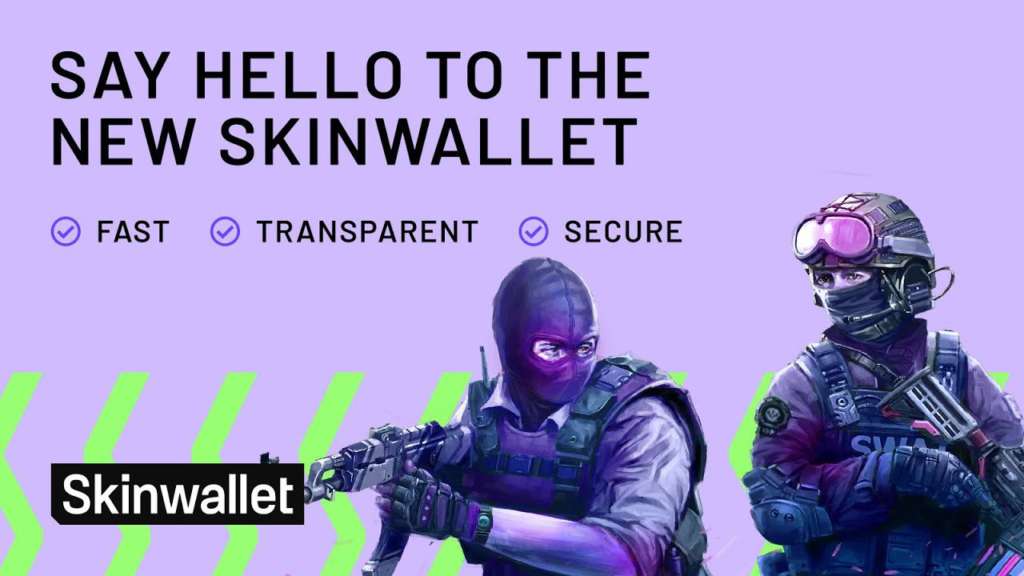 Skinwallet has a comprehensive security structure that depends on a player-to-player manner that puts you in control of every transaction in your account. You can pick which skins to monetize and how to route your funds.
Their 2-step verification procedure secures your account and personal data using your phone or security key and password. They have an SSL certificate to secure your password, usernames, and email and encrypt your information to avoid fraud. You also feel free to check out reviews from merchants, streamers, and partners.
SkinWallet : Games & Skins
For Using SkinWallet you must have the supported games listed below:
Counter-Strike: Global Offensive
Dota 2
Team Fortress 2
Payday 2
Currently, the potential payment allowed by SkinWallet is for only CS: GO skins. However, they are working on adding other currencies from other steam games very soon.
SkinWallet is highly versatile, giving you up to 100 items for each transaction. You may even make several contributions to your SkinWallet account with no restrictions to cover a costlier piece for extra ease.
SkinWallet: Minimum Selling Price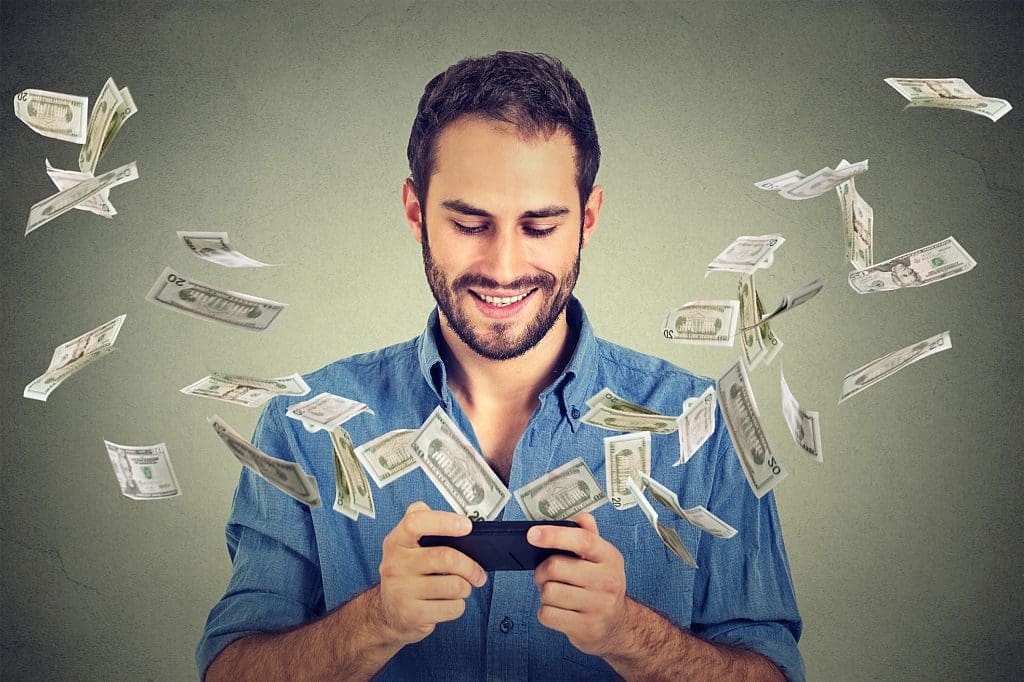 The least price for your skins may be around $0.5 to $1 for most cases, $1 for graffiti, $1 for souvenirs, etc. And it can go all the way to the actual price, like around $100 or $1000, etc. You can get your skins evaluated over there to get the true value.
SkinWallet : Eligibility
Everyone with the steam account and trading enabled is eligible for SkinWallet. Suppose you have a steam account that is unable to trade due to security limitations. In that case, you must try and get your trade enabled as it is necessary. Fortunately, there is a simple method to determine if the Steam account you have is eligible for trade.
You have to check in and then head over to the Community Market. You may do this either from the web browser or through the app. Suppose the community page doesn't provide an additional notice at the top of the page in a bracket. In that case, the account is suitable for trading.
In case there is a limitation where you will have to go through the steam support. Head over to the Support page while you are logging into the steam account. You will see that Steam will display the significant problem with the account. Make sure to connect with Steam for the resolution of your account.
Nevertheless, if you have to sell the skins, you need to have the ability to estimate the value of the skins. Three significant variables contribute to the price of skin -: Skin scarcity, Skin float, and Special characteristics. It would help if you learned out about them. To obtain the proper pricing, you will also have to choose the pick your market. The closing price will be the one that someone is ready to pay.
SkinWallet: Skins Eligibility
Skinwallet is a legal high-value platform that only fetches the highest prices for your skins. Thus they only accept skins with high value that can easily attract regular pricing in the market. The skins have to be transferable to the Skinwallet account.
Skinwallet: The Conclusion
That's all about the ultimate skin exchange website Skinwallet; make sure to check it out using our link ( Click Here ) to avail of great discounts (you can also support us by doing so).
Also, don't forget to use the exclusive SkinWallet's Code "WEEKEND" to avail Additional 5 Percent Discount while checking out.
If you like to follow up with the top gaming reviews and updates, follow us on Facebook, Twitter & Instagram and stay in touch with the latest. You can even check Technology, Crypto, Marketing, and various other fresh and latest posts and share them if you like our content and want to support us; until then, Stay Tuned.